ZENHR CORPORATE AND WORK CALENDARS
The section of ZenHR dedicated to managing the corporate calendar and employee calendars
The ZenHR Moldulo Add-on module also allows management of the company calendar, where holidays and company closures and the calendars of individual employees will be defined.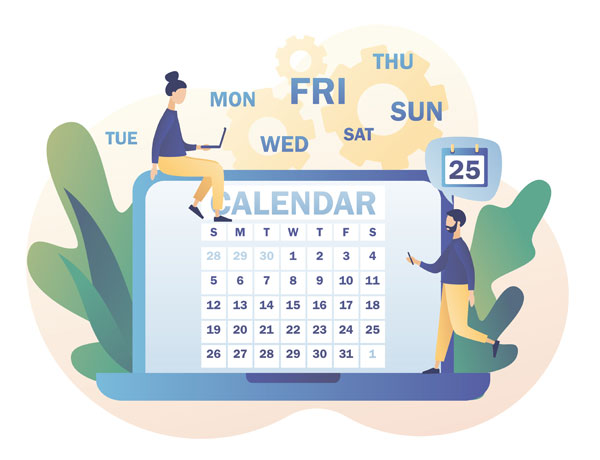 Corporate calendars
easy to read and manage
Calendar management (administrative features)
CORPORATE CALENDAR
With the ZenHR Add-on module, you always have a clear and constantly updated picture of absences, reasons and the status of the approval process of the various requests.
In the section dedicated to the company calendar, it is then possible to define holidays and company closures.
All changes made to the company calendar will automatically be reflected not only on the personal calendars of individual employees but also, for those who already use our solution dedicated to Project Management, directly on the GANTT Chart of ZenProject, thus automatically updating the distribution of activities and tasks of the resources involved in a project: a very important aspect, especially for project managers who need to be able to monitor the progress of projects.
EMPLOYEE CALENDARS
The user having role of administrator of ZenHR has access to each employee's calendar: he/she will be able to manage employee calendars, for example to enter illnesses or leave of another nature. Furthermore in the Resource Management area, it is possible create different types of employment contracts (full-time, part-time, consultant, etc.) to be associated with employees.
ZenHR is a human resources management add-on module featuring:
ZenHR is an optional 'additional' module, to complete and maximize the strategic and operational efficiency of those who have already chosen or are thinking of choosing:
Start your innovation journey with ZenShare!