ZenShare Suite is the Information Management System conceived and developed by Interzen
It is a platform based on:
The Suite is also designed to be integrated with all company ERP systems.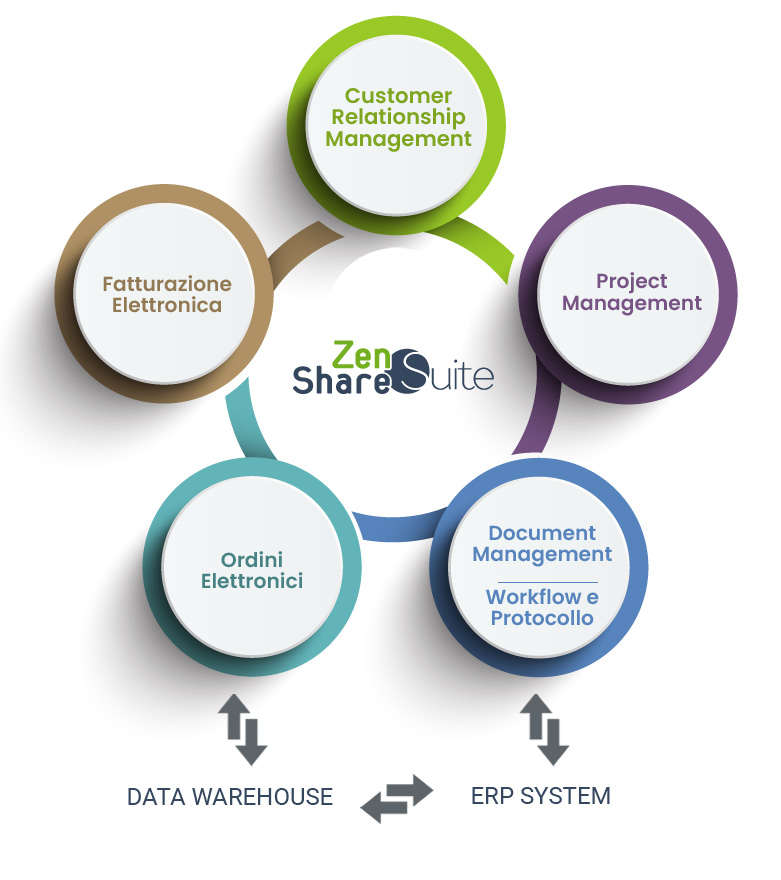 Why choose the
Suite ZenShare?
Our Suite of solutions for Medium and Large Companies and for the Public Administration is designed to structure, speed up and supervise your business processes in every area of your organization.
How is ZenShare Suite structured?
ZenShare Suite has a Native Web architecture structured on a basic framework that allows the management of portal flows and contents (Content Management), governs the functionality of all the frontend modules with the relative access policies and manages the system parameters. It interfaces with the the most common Web Servers guaranteeing a technological standard aligned to the platform in use. The documentation is managed within the repositories defined by the customer. The index server indexes and makes available the content of electronic documents maintained by ZenShare.
SOAP (Web services) connectors and specific connection APIs allow you to interact with the platform for the automatic exchange of data, from and to external systems.
the Cloud of ZenShare Suite
Requirements
FRONT-END (minimum requirements necessary for using the services in Subscription and Cloud mode)
– Microsoft Edge (updated version)
– Google Chrome (updated version)
– Mozilla Firefox (updated version)
APPLE Mac OSX/iOS
– web browser:
– Google Chrome (updated version)
– Mozilla Firefox (updated version)
– enabled Javascript;
– enabling local port 443 on the firewall server (if installed).
Start your innovation journey with ZenShare!